☂Home
☂Ask/Mssg
☂History
☂Info
☂Art
☂About me
☂FAQ
☂Characters
My name is Daisy and I live in West Blue. I love pirates and sailors!
My blog is 90% original content
I draw and make sprites.
Skype: AkagamiShanksu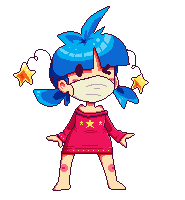 Hey it's another PD2nd QR! LOL
I plan to do more (from PDf especially) so I hope you guys enjoy this too :)
(via mega-rustoid)
I can't stop making sweaters. :X

Cause I decided there weren't enough galaxy patterns floating around that I've seen so I went ahead and made some for you wonderful folks.


gory tank for hallowe'en that makes it look like you're all torn up and open!
(via fresa-crossing)
here have this night sky design!!

it tiles so it's good to use as a wallpaper/carpet but use it for whatever!!
(Source: eridanstophalf, via animalcrossingnerds-deactivated)