☂Home
☂Ask/Mssg
☂History
☂Info
☂Art
☂About me
☂FAQ
☂Characters
My name is Daisy and I live in West Blue. I love pirates and sailors!
My blog is 90% original content
I draw and make sprites.
Skype: AkagamiShanksu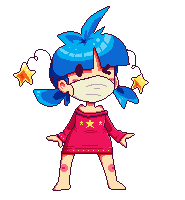 Brewster visited my kiosk this morning!

It took about 45 minutes all together.. :3 <3
(via okashi-village)
My phone is being weird. I clicked follow on the people who recently followed me and it keeps unfollowing them after.
My tablet has been breaking and luck would have it that my mom has a friend who was giving his tablet away. It is pretty awesome. It didn't work at first but things turned out ok in the end
Watching Jurassic Park in my kawaii Jurassic Park outfit. The movie is actually way too short IMO.
This is the most goth Daisy is going to get. Jurassic PUNK. She looks super cute and all but it doesn't technically suit her character. Maybe when she was younger but not now.
Shockingly this is actually one of the lesser tedious events.
This is probably the only time Ludwick will ever dress up cutsey like this. I was wanting to design an elegant outfit for her but I don't really know how to do elegant that well so it just turned out lacey and cute. 
I want to design more military dresses. Unfortunately gotta do a lot of referencing for those and they are certainly time consuming.
4/20 blaze it. (Don't kids. It's illegal. Just be like me and pretend you're into celebrating 4/20 but you've never smoked a blunt in your life.)
Im still cool.
I'm arguing with a Japanese girl. Finally all my dreams have come true.