☂Home
☂Ask/Mssg
☂History
☂Info
☂Art
☂About me
☂FAQ
☂Characters
My name is Daisy and I live in West Blue. I love pirates and sailors!
My blog is 90% original content
I draw and make sprites.
Skype: AkagamiShanksu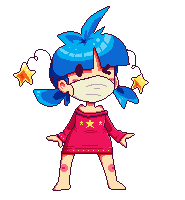 Some random body twisting doodle
I'm addicted to Atrium Carceri. Also been listening to Ghosts On Magnetic Tape by Bass Communion ALOT.
Note to self, make Jurassic Park shirt.
First one is a custom Harley Quinn themed dress and the second one is just a random custom design. I made 2 alt color versions of it also.
zzzz…
(via gargloid)
I still need a Yoshi egg :(
I'll prob upload Craig, Clyde, and random Harley Quinn dress I made tomorrow. If there's ever any QRs you want me to make, tell me and I'll see if it's doable.