☂Home
☂Ask/Mssg
☂History
☂Info
☂Art
☂About me
☂FAQ
☂Characters
My name is Daisy and I live in West Blue. I love pirates and sailors!
My blog is 90% original content
I draw and make sprites.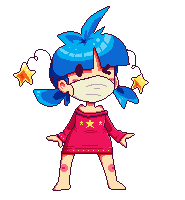 Anonymous said: Do you think you can make a flag for a town called Glenley?
Maybe. What would you want on the flag
Hey it's another PD2nd QR! LOL
I plan to do more (from PDf especially) so I hope you guys enjoy this too :)
(via themega-rustoid)
I guess I lied when I made that post saying I'd do spring cleaning. Cuz I still haven't. 
I don't know why she always says this because she never gives us the option to make QRs of stuff we didn't design. 
Hoka Inumuta QR. Unfortunately, as usual, the only pants that actually sorta match are a bit on the grey side (despite being called white formal pants) so I just wear a black skirt instead.  Shirt version and dress version. 
Anonymous said: Why is she a Nazi? And how is that okay?
Why are you paying attention to me, Daisy aka irrelevantcrossing. How is this ok? Also maybe check out my FAQ.